"Memoratus in Aeternum"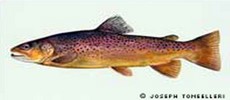 The title is Latin for remembered unto eternity. As we begin a new year with hopeful promise we also reflect and remember the past. The last several years we have had increased interest in "memorial trout" that are released in memory of a loved one that has passed or that can no longer make it to the river to fish as they once had loved to do. Think of the joy they will bring to the lucky person who might hook and do battle with one of them. It is a fitting tribute for someone who loved fishing, paddling or just walking along the majestic Lehigh River.
We can facilitate the release of a trophy memorial fish in memory of your loved one. We typically can purchase your choice of a Brown or Rainbow Trout and release the fish in an area of the river that you specify. We will even try our best to coordinate a time that you may be there to assist in releasing the fish.
If you are interested in our tribute program or want to arrange for a memorial for this coming year, please feel free to contact me directly or go to our web site (lrsa.org) and click on the memorial fish button. I would be happy to assist you
Best Regards,
Chuck Morgenstern
610-216-4022
---
Please choose what size of Memorial Fish you would like to purchase, afterwards you will be redirected to the form completion page to enter who you want to memorialize.